Invisalign is a well-known and increasingly popular teeth straightening system. Through the use of a series of clear plastic aligners moulded specifically for their teeth, Invisalign offers patients a more discreet alternative to traditional metal braces. These removable aligners are replaced every two weeks for the next set in the series, gradually realigning the teeth and improving the patient's smile.
Many people have heard of Invisalign, but fewer people are aware that there is a whole range of Invisalign products to choose from, including Invisalign i7.
What is Invisalign i7?

Invisalign i7 uses the same orthodontic technique as the rest of Invisalign's range, but is specifically designed to treat minor crowding or spacing issues and can get results in as little as three months.
The treatment begins with a mould being taken of your teeth which will be used to create a 3D model. Your dentist will then come up with a treatment plan and a series of seven aligners will be created for each stage of the process. These custom made, transparent aligners will fit perfectly over your teeth and work to gently move them into the required position. Although the process is not usually painful or uncomfortable, there may be a slight adjustment period when switching to a new aligner.
To maintain your new smile, it might be necessary to wear a retainer after completing the i7 treatment. Most people find that they only need to wear their retainer during sleep, but be sure to speak with your dentist to be sure.
Benefits of Invisalign i7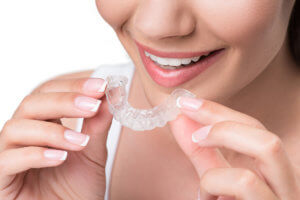 As mentioned above, Invisalign i7 uses clear aligners which are very inconspicuous, especially when compared to traditional metal braces, making them a popular choice in these image-conscious times.
Furthermore, as Invisalign i7 is designed to fix relatively minor orthodontic problems, treatment can be completed in just a few months, giving you the smile you've always wanted in a fraction of the time you might expect. 
Another benefit of Invisalign's system is that their aligners are safe and easy to remove, so patients can brush and floss their teeth much more easily than normal braces allow. This also means that you can remove the aligners when you want to eat or drink, or when attending a special occasion such as a wedding.
How much does Invisalign i7 cost?
The full Invisalign i7 treatment will typically cost around £1500, although this will vary depending on your particular circumstances and your dentist. Considering that a full Invisalign treatment can cost as much as £5500, i7 is an excellent option for those who want to correct any relatively small issues with their smile.
However, as mentioned above, only minor orthodontic problems can be fixed using Invisalign i7, so your dentist may recommend a different procedure if your case is too complex.