Although crooked teeth might not seem like a serious medical issue, the psychological repercussions of such misalignments can be very serious. Orthodontic treatments might be viewed as cosmetic procedures by society, but they do a lot to increase a person's self-esteem.
Therefore, orthodontic procedures produce tangible results as well as intangible results like improved mental wellbeing.
There are multiple options that you can choose to correct your crooked teeth. Here we'll look at the different treatments and identify the fastest way to straighten teeth.
Options for Straightening Teeth
Braces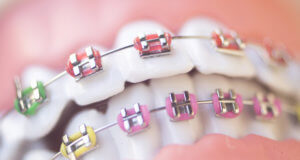 Braces are the most traditional method used to correct overcrowded or crooked teeth, reduce excessive space between teeth and correct uneven bites. Braces are wire-based treatments.
If you have severe misalignment or uneven bite issues, you will have to go with braces to correct these issues. Depending on the severity of the problem and how you want the braces to look, you can make use of different kinds of braces. Some of the different types of braces are:
Traditional Braces: These are the most noticeable form of braces and make use of metal brackets and wires for corrective treatment.
Ceramic Braces: These are also known as clear braces. Although they use the same mechanism as traditional braces, the brackets used are clear or the colour of your teeth. Ceramic braces can also be combined with clear wires. This option is not visually as noticeable as traditional metal braces.
Lingual Braces: These braces make use of the traditional metal brackets and wires, but instead of facing outside, they are attached to the inside face of the teeth. Lingual braces are therefore entirely invisible on the outside. However, they are not very commonly used as they cause more discomfort initially than other types of braces, are more difficult to clean, and cannot treat severe cases.
Like any other teeth straightening option, braces also have their pros and cons.
Pros
Most Adaptable Treatment Option: Braces can be used to treat minor as well as severe orthodontic cases.
More Effective: Compared to other options, braces give guaranteed results. Braces exert more pressure on your teeth and can move them more effectively.
Lots of Options: With new and improved orthodontic treatment methods, getting braces doesn't always need to mean returning with a mouth full of metal. You can choose less noticeable options like ceramic or lingual braces.
Cons
Appearance: Despite the different options available today, you will need to walk around with braces for the entire duration of your treatment, they are not removable.
Difficult to Brush: You need to clean your teeth properly to avoid plaque build-up. But navigating your brush and flossing around the brackets and wires can become difficult.
Dietary Restrictions: Sticky food and food items that are too hard can damage and break the wires and brackets.
Regular Dentist Appointments: Braces work by tightening the wires depending on the movement of your teeth. So you will need to visit your dentist every month to adjust the wires to aid the treatment.
Aligners
An aligner is a teeth-straightening procedure that makes use of custom-made mouthpieces to slowly straighten out crooked teeth or reduce gaps between teeth. These are custom made by taking 3D scans of your mouth.
Pros
You only need to visit your dentist every 10 or 12 weeks if you are using aligners whereas you need to see your dentist every 4 weeks if you get braces.
Aligners are less conspicuous than most forms of braces.
They are removable.
Easier to clean and brush teeth.
Are typically more comfortable than traditional braces.
Cons
Since this treatment requires you to get several customised mouthpieces, it can become quite expensive.
Aligners can treat mild or moderate cases quite well, but they are not suitable if you have severe orthodontic issues.
Surgery
Getting orthodontic surgery might be one of the fastest ways to straighten teeth and accelerating the corrective process by remodelling tooth tissue. Your dentist will perform minor surgery, under local anaesthesia, to reposition the gums and bones that hold the teeth in place.
Although you will still have to wear braces, the surgery will help your teeth to move into place faster. This means you won't have to wear braces for too long to straighten your teeth.
Pros
Cons
If you don't clean your teeth and maintain proper oral hygiene, you can develop infections, pain, and swelling after the surgery.
This procedure is more costly than other alternatives.
How Long Does Each Treatment Take?
The time taken to straighten out your teeth is directly proportional to the severity of your issues in most cases.
Braces
Braces usually take the longest to give results. You might need to wear braces anywhere between 18 months to 3 years. This depends on the severity of your orthodontic issues. However, even though they take longer to show results, braces offer results that last longer.
Aligners
Treatments that involve aligners usually take around 10 to 24 months. Again, this depends on the severity of your problems. If you are someone who had braces earlier and wants to correct slight teeth shifts, you might need to use aligners only for ten weeks or so.
Teeth aligners are much faster than braces, but they cannot be used to treat all cases. Aligners were less effective in treating severe misalignments and uneven bites compared to braces.
Surgery
Surgical correction of orthodontic problems can take anywhere between three and six months. Since this method combines surgery and braces, they give lasting results in a short time.
Other than the complications associated with any surgical procedures, this is the fastest way to straighten teeth.
Parting Words
Crooked and misaligned teeth can be a source of physical and mental discomfort. With so many advances in technology, you need not always go for the traditional braces to correct such misalignments.
Depending on the severity of your issue, you can choose discrete and non-invasive options to straighten your teeth. If you are uncomfortable walking around with your mouth full of metal, you can go for removable options as well.