Modern dentistry has provided a diverse range of options for people looking to improve the alignment of their teeth. Traditional metal braces are becoming less common, as people switch to custom-made aligners to reshape their smile in a more subtle manner.
Two of the more popular alternatives to braces are Invisalign and Inman Aligners. Both treatments are highly effective, but there are a few key differences between them. Here, we'll look at the differences between an Inman Aligner and Invisalign treatment.
What is an Inman Aligner?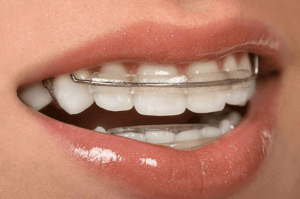 As you might have guessed by the name, this treatment uses an aligner process as an alternative to traditional braces. It's typically used by people who had braces when they were younger but failed to regularly wear their retainer when their initial treatment ended, resulting in crowded teeth. Most candidates for Inman Aligners are people who do not wish to return to wearing braces but require a solution to their crowded smile.
It's a much easier solution to the issue than full braces, but it's not as much of a comprehensive treatment as Invisalign. Invisalign can be used as a long-term orthodontic treatment for the full mouth, whereas Inman Aligners only focus on the visible teeth at the top and bottom of your smile. This means that results from the aligners are fairly fast, often showing fantastic improvements in as little as 1-3 months, as long as the patient is consistent with wearing the aligner. Inman aligners only need to be worth around 16 hours per day, compared to around 22 hours for Invisalign.
What is Invisalign?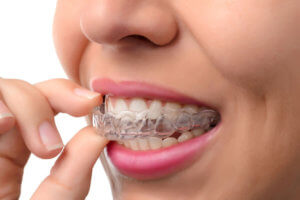 Invisalign is a treatment that involves the use of several sets of custom-made aligners designed to gradually realign your teeth over the course of the treatment. The aligners are almost entirely invisible when worn, which is a huge bonus for people who may be concerned about the appearance of braces on their teeth. Invisalign is a more robust treatment than Inman Aligners and can be used to treat a wider range of orthodontic issues – something which is reflected in the price of treatment.
While a patient being treated with an Inman Aligner is likely to only require a single aligner throughout the treatment, Invisalign retainers need to be replaced every couple of weeks for the treatment to continue. Depending on the severity of the treatment, this can mean more than 40 retainers being used to realign your smile. This means that Invisalign is usually much more expensive (£2500 to £4000) than the Inman Aligner system (£1200 to £1500).
What's the best option for you?
Ultimately, the best option will depend on your specific issue, your budget, and what your orthodontist recommends is the best form of treatment. Inman Aligners are excellent at quickly resolving crowding issues in the front teeth, and are much less expensive than Invisalign. They are also far less discreet and are not a suitable treatment for more severe alignment issues.
Invisalign is a highly effective and widely used orthodontic treatment and can resolve a wide range of alignment issues. It's almost invisible to anyone but the wearer, so it's also a desirable alternative to traditional metal braces for many people. However, that comes at a higher price point than many alternative treatments, so it may not be the best option for you.
Alongside Invisalign, there are a number of aligner systems that are a little more affordable and can be completed at home if you are a suitable candidate. You can learn more about these treatments here.
Ultimately, the right treatment will be determined by your orthodontist. Inman aligners and Invisalign are both effective treatments but are used to treat slightly different issues. Consult your orthodontist for the best course of treatment for you.